Located in Beatrice, Nebraska, enjoy beautiful country views and visits from local wildlife at Homestead House. We make the human element of caring our first priority. Welcome home to Homestead House.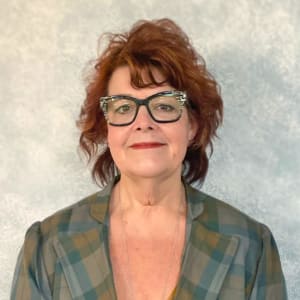 Meet Our Executive Director
Welcome to Homestead House!
As Executive Director, I am happy to connect with you on any questions you may have about our amazing community. We want to offer you and your family a community full of love, hope and friends. Our exceptional team members are working hard to keep our community as healthy and safe as possible. I look forward to getting to know you.
Suzanne Gill
Executive Director
sgill@homesteadhouseAL.com
Our People
From the Home Office to the dining room, every team member becomes a part of the Oxford Senior Living family. The human element of caring is our first priority; an extraordinary and empowered staff values and embodies service to others; and the environment inspires happy residents who feel at home sharing hopes and dreams, recipes and fishin' stories.
"What a wonderful place. The atmosphere is so warm and "homey" and the staff is very attentive."
- Ken

"The staff is extremely friendly and caring!! My mind is at ease knowing my mom's needs are being met on a daily basis!!"
- Kathy

"Excellent place to work our people are fun to take care of. I enjoy working here."
- Kim

"No day is ever the same. Love the interaction with the resident and their loved ones, the staff really cares about providing wonderful care, even taking time to get to know the resident — taking the time to join in a card game."
-Mike

"It is a safe, comfortable and loving place to live."
-Phyllis

"They have my loved one's best interest in mind. They have staff that cares and really know my family. Not only my loved ones that live there, but my whole family. It's like home."
-D

"My mother considers this place her home. The staff is very caring and treats their residents with love and respect. Our family has been very pleased with the care given to my parents during their time there. If we have issues, it is very easy to communicate with management and they have been resolved quickly. I would definitely recommend placing a loved one here."
- Vicki B.

"Our mom lives at Homestead House and she is very happy there. She loves the staff and is always telling us how nice they are to her. The facilities are very nice. She also really enjoys the activities that are available. We have to plan our visits around these activities!"
" - Bonnie B.

"Mom moved to Homestead House in March, and it was a great choice. Just yesterday she said, "You know, I never thought I would end up in assisted living, but I know I will always have someone to visit with and to laugh with. I haven't had one bad experience yet." She thinks the care she receives is great, enjoys the food, and loves how staff people stop by to chat. Our family couldn't agree more. We're thankful that Mom is at Homestead House."
- Susan F.
What Others Are Saying
We are blessed with incredible referral partners, amazing residents and extraordinary resident families that we consider our extended family! Click to see what others are saying about Homestead House.